24 Nov Noble Profit And DMG Global Launch Joint Venture Dedicated To Sustainability, Impact And Clean Tech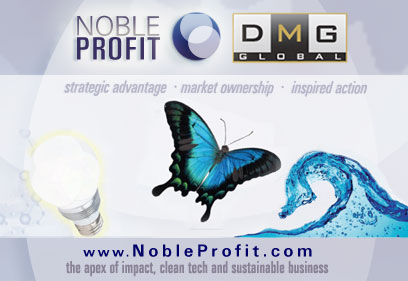 SAN FRANCISCO, November 19, 2015/ – Noble Profit, a digital media and technology source for clean tech, impact, and sustainability information, announced today their joint venture partnership with DMG, a strategic consultancy run by David Morey, known for advising and adding value to some of the most renown Fortune 500 companies and helping direct sixteen winning global presidential campaigns.
Noble Profit is an authentic source for innovations, trends and investment opportunities in clean technology, impact investment and sustainable business practices. The firm publishes valuable information, views and trends from thought leaders whose pioneering work sets standards in the emerging fields of clean technology, impact investments and sustainable business. In addition, the firm provides matching investments and supply offerings and is developing unique technology solutions for stakeholders to connect to today's global community. Noble Profit, founded by Amy Seidman, has a rich community of cohorts, stakeholders and strategic partnerships, and is leveraging an exclusive media-driven thought leadership series involving over 220 video interviews, along with the matching program.
DMG Global is one of the world's most successful strategy, branding and communications firms, helping to add billions of dollars of client shareholder value over the past three decades. The firm works with or has worked with companies such as GE, Verizon, Pepsi, Mars, KPMG, McDonald's, Microsoft, News Corp., Nike, P&G, Disney, Visa, The Coca-Cola Company, Linked-in, TPG, American Express, NBC, Samsung, Deloitte and many others.
While virtually every global business today has a "Socially Responsible" profile, very few have leveraged this essential element to gain market share; few companies have been able to partner with consumers and policy makers to "change the world." With today's complex and diverse internal and external audiences, enterprises face mounting difficulties and challenges in owning and maintaining market share. In a rapidly shifting landscape, establishing relevant differentiation is an absolute imperative.
Sustainable practices must be an integral component of current business models. Yet strategy is rarely based upon a Corporate Social Responsibility (CSR) profile and model.
This is why Noble Profit and DMG Global have entered into a strategic partnership to facilitate the execution of such a model, to access investment, talent and supply chain with a CSR emphasis-leveraged across silos, based on individual needs and market realities.This initiative assists companies to establish market ownership through sustainable execution and investment, while developing a winning brand and communications strategy to successfully drive sustainable business tactics more effectively and efficiently.
Today, strategy is more than building a brand. It requires a genuine integration of CSR, venture investment, branding and communication-wrapped together into one core strategy that drives all execution.
Today, disruptive business models such as sharing and 3D printing have already put many enterprises out of business. In contrast, companies investing in clean tech have benefited enormously: In fact, most CSR experts conclude this investment pays for itself within the first two years. Companies are increasing profits through investment and new products, such as GE who made $25 billion on clean tech in 2012. With customers, suppliers, investors, employees and local communities increasing demand for CSR standards, any company who has not engaged in a stakeholder-based approach to compliance is at a distinct disadvantage.
Today, value in any marketplace is created by relevant differentiation. Access to new and unique technology solutions and targeted innovation opportunities is therefore smart business. DMG Global's approach to strategic branding and communication and Noble Profit's extensive work in CSR thought leadership and innovation offers a powerful and compelling value proposition for stakeholder advantage.
For more information about the range of products and services offered by Noble Profit and DMG Global please go to: