THE LEADERSHIP CAMPAIGN:
10 Political Strategies to Win at Your Career
and Propel Your Business to Victory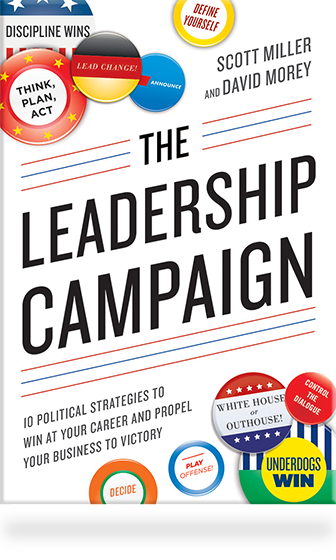 Steven Jobs put us into business.  We were successful political consultants with 12 global presidential wins to our credit.  But Apple would be our first business client.  "You have to get that 50.1% on Election Day or go home," Steve explained.  "I figure you guys have sharper strategies and sharper elbows."
We developed an insurgent political model for Apple against the incumbent IBM.  And we've continued to refine our political model for businesses and business leaders with companies like McDonald's, Google, The Home Depot, The Coca-Cola Company, Microsoft, American Express and countless others, from start-ups to global corporations.
Now we'll help you put these winning strategies to work for your company and your career.
We'll teach you the success-building communications skills we've used to train political leaders and CEOs around the world for 30 years.
We'll give you the proven strategies to get control of the competitive dialogue and never let go.
Most of all, we'll teach you how to go for the win, the whole win and nothing but the win for you and your company.
This is the essential leadership playbook for the age of change.
Scott Miller
Scott Miller co-founded the pioneering political consulting firm, Sawyer/Miller Group in 1979. Along with the campaigns of scores of US Senate and Gubernatorial victories, Sawyer/Miller managed the campaigns of global revolutionaries like Corazon Aquino, Lech Walesa, Vaclav Havel, Vicente Fox and Boris Yeltsin. Miller's Core Strategy Group was the invention of Steven Jobs of Apple to develop an insurgent political model for business strategy. He continues to consult to CEO's globally through Core Strategy Group. Miller is the author of Building Brandwidth with Sergio Zyman, One More Customer with Fran Tarkenton and The Underdog Advantage with David Morey.
David Morey
In addition to his work as Vice Chairman of Core Strategy Group, Morey is Chairman and Founder of DMG Global. He is one of America's leading strategic consultants—and one of the most sought-after speakers. Morey, co-author with Scott Miller of The Underdog Advantage, has worked with some of the world's top business leaders—and advised five Noble Peace Prize winners and sixteen winning global presidential campaigns, including that of Barack Obama. His corporate clients include GE, Verizon, Pepsi, Mars, McDonald's, Microsoft, Nike, P&G, Disney, Visa, The Coca-Cola Company, TPG, American Express, NBC, Samsung and many others. Morey is Adjunct Professor at the University of Pennsylvania, and, as an undergraduate, was a four-time All-American in the Decathlon, IC4A Champion and a member of several U.S. national teams.
Morey is a member of the Council on Foreign Relations and served as the chairman of the CFR's Task Force on Public Diplomacy, as member of the Defense Science Board's Task force on US Strategic Communications and National Security, and as an advisor to the Department of Homeland Security.